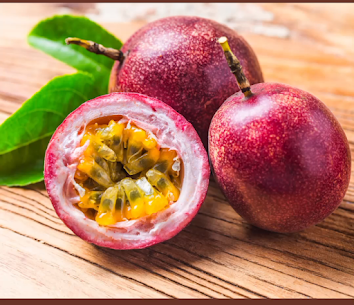 Passionfruits, with their exotic allure and delectable flavor, have become a sensation in the culinary world. From vibrant cocktails to refreshing desserts, the versatility of this fruit knows no bounds. Let's delve into the world of passionfruits, exploring their origin, nutritional benefits, culinary uses, and its booming industry.
Introduction
Passionfruits, scientifically known as Passiflora edulis, are tropical fruits celebrated for their distinct taste and eye-catching appearance. These small, round fruits boast a tough outer rind that gives way to a juicy, seed-filled interior. Known for their unique combination of sweetness and tartness, this fruit has become a sought-after ingredient in kitchens worldwide.
The Origin and Varieties 
Tracing the Roots
Diverse Varieties
There are several varieties of passionfruit (Passiflora edulis), each with its own unique characteristics in terms of size, color, and flavor. The two main types commonly cultivated and consumed are the purple passion fruit  (Passiflora edulis) and the yellow passionfruit (Passiflora edulis f. flavicarpa). Here's a closer look at these two primary varieties:
Nutritional Benefits
Passionfruits in Beauty and Wellness
Skincare Benefits: Beyond the kitchen, passion fruits contribute to the skincare routine; the nourishing properties of passion fruit for radiant and healthy skin.
DIY Beauty Treatments: A simple and effective beauty treatment using passion fruit as a natural ingredient. From facial masks to hair treatments, It harnesses the power of passion fruit for self-care.
Passionfruit Farming: A Lucrative Venture
Commercial Aspects: The passionfruit industry has grown significantly due to increasing global demand.  the commercial opportunities and economic benefits for farmers engaged in passionfruit cultivation.
Economic Benefits: Passionfruit farming can be lucrative, offering farmers a sustainable income. There are economic advantages and success stories within the passion fruit industry.
Passionfruit and its Role in Sustainable Agriculture
Low Environmental Impact: Passionfruit cultivation has a low environmental impact when approached sustainably. Its eco-friendly practices and their role in the overall sustainability of passionfruit farming.
Sustainable Practices: An innovative and sustainable practice adopted by passionate farmers committed to preserving the environment while meeting the growing demand for passion fruits.
Passionfruit: A Versatile Ingredient in Mixology
In Cocktails and Mocktails: Mixologists embrace passion fruits as a key ingredient in crafting innovative cocktails and mocktails. This popular drink recipe  showcases the versatility and vibrancy of passionfruits.
Drink Recipes: Whether it's a passion fruit margarita or a tropical punch,  mixologists are elevating the drinking experience by including this exotic fruit.
Challenges in Passionfruit Industry
Pests and Diseases: Like any agricultural venture, passion fruit farming faces challenges such as pests and diseases.  The common issues and effective strategies employed to combat these challenges.
Overcoming Challenges: Passionate farmers are employing innovative techniques and sustainable solutions to overcome challenges in the passionfruit industry. There are success stories and resilience in the face of adversity.
Conclusion
In conclusion, passionfruits are a testament to nature's brilliance, offering a symphony of flavors, nutritional benefits, and economic opportunities. From your backyard garden to the global culinary stage, the journey of the fruits is as captivating as the fruit itself. As you embark on your passion fruit exploration, savor this tropical gem's versatility and richness.
---
FAQs 
Are there different varieties of passion fruits, and do they taste different?

Yes, passionfruits come in various varieties, each with its own unique flavor profile. The common purple passionfruit has a distinct taste, while the yellow passionfruit offers a more tropical and floral flavor.

Can I grow passion fruit at home, and what are the key considerations?

Absolutely! Growing passion fruit at home is feasible with the right conditions. Ensure adequate sunlight, well-draining soil, and proper care to enjoy a bountiful harvest.

How can passion fruits benefit my skin?

The vitamins and antioxidants in it contribute to skin health. Including it in your diet or using it in DIY beauty treatments can promote radiant and nourished skin.

What challenges do passionfruit farmers face, and how do they overcome them?

Passion fruit farmers may encounter pests and diseases. However, proactive measures, sustainable practices, and innovative solutions contribute to overcoming these challenges.

Can I try any famous recipes featuring passion fruits at home?

Absolutely! It can enhance both sweet and savory dishes. From passion fruit cheesecake to grilled chicken with passion fruit glaze, there's a wide range of recipes to explore.