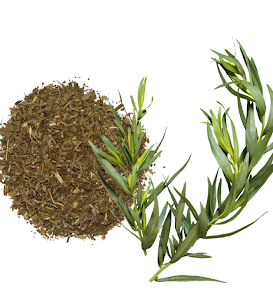 In the realm of culinary delights, certain herbs stand out as unsung heroes, adding depth and character to dishes that captivate the palate. With its distinctive flavor profile and rich history, tarragon is undoubtedly one herb that deserves a moment in the spotlight. Join us on a flavorful exploration as we unravel the secrets of tarragon, discovering its origins, unraveling its culinary magic, and delving into the myriad ways it can transform ordinary meals into extraordinary experiences.
What is Tarragon?
Tarragon, an herb with a rich history, has established itself in the culinary world and traditional medicine. Its distinct flavor profile and potential health benefits make it a versatile addition to gardens and kitchens around the globe.
Types
French Tarragon (Artemisia dracunculus var. sativa)
It is the most widely used and recognized variety for culinary purposes. It has slender, aromatic leaves with a distinctive anise or licorice flavor. This type of tarragon does not produce viable seeds and is typically propagated through cuttings or root division.
Russian Tarragon (Artemisia dracunculus var. inodora)
It is a harder variety but lacks the intense flavor of French tarragon. It can be somewhat bitter and is often considered a less desirable option for culinary use. Unlike French tarragon, Russian tarragon can be grown from seeds.
Mexican Tarragon
It is scientifically known as Tagetes lucida, which is an herb with a flavor profile distinct from the more common French or Russian ones. It is a delightful twist on traditional taragon flavors, making it a versatile herb in the kitchen. Its unique taste and cultural significance contribute to its popularity in Mexican and Central American cuisines, offering a flavorful option for those seeking a fresh and aromatic addition to their dishes.
Health Benefits
The chicken is a delicious and flavorful dish that typically features chicken seasoned with the distinct taste of tarragon. Here's a simple recipe for the chicken:
Cultivation and Growing Conditions
It thrives in well-drained soil and requires ample sunlight. Cultivating this herb involves specific considerations, including soil composition and sunlight exposure.
Harvesting and Preserving 
Knowing the ideal time to harvest tarragon and effective preservation methods ensures a fresh supply for culinary and medicinal purposes throughout the year.
In the Garden
Beyond its culinary use, it is a valuable companion plant and exhibits pest-repelling properties, making it an asset in garden planning.
Conclusion
Tarragon's role in the culinary and medicinal worlds is diverse and impressive. As we appreciate its unique flavors and potential health benefits, let's embrace tarragon in our gardens and kitchens, exploring its many facets.
FAQs
Can I grow It indoors without natural sunlight?

While tarragon prefers sunlight, it can be grown indoors with artificial light sources, ensuring it receives adequate light for healthy growth.

What are some creative ways to use it in cooking?

Tarragon can infuse vinegar, add it to salads, mix it into sauces, or even be incorporated into desserts for a surprising twist..

Can I use dried tarragon in recipes that call for fresh tarragon?

Dried ones can be substituted for fresh in a pinch, but the flavor intensity may vary, so adjust accordingly.

How long does the tea stay fresh, and can it be stored?

The tea can be stored in the refrigerator for 2-3 days. To maintain freshness, store it in an airtight container.